Gabriel-Glas Alpha Decanter
Completely hand-blown and handcrafted with a razor-sharp, no-drip rim.
On the table this is a handsome work of art. In the hand, its thoughtful details make it practical to use; open on both ends for proper aeration, a diamond-honed rim for drip-free pouring, and a gentle curve so that mature wines can settle their sediment.

Product Highlights
Hand-blown and handcrafted

Brilliant lead-free crystal

Balanced for ease of pouring

Drip-free, diamond-honed rim
A Note from Jonah
"Decanting a wine is an act of respect. Respect for the wine in that a little oxygen and a chance to unfurl allows it to show off its complexity. Respect for the drinker in that a decanted wine is easier on the palate and more open on the nose. Alpha Decanter adds a touch of respect for the art of glass blowing with its graceful curve and precise details."
Height: 300 mm (11.81 in)

Width: 85 mm (3.34 in)

Weight: 715 g (25.22 oz) with variability since each is unique
Rinse with hot water after use

Dishwasher safe and recommended when needed

Powdered detergent is usually better than liquid

Be sure it's safe from falling over

Polish when damp and still steamy

Store in a well-ventilated area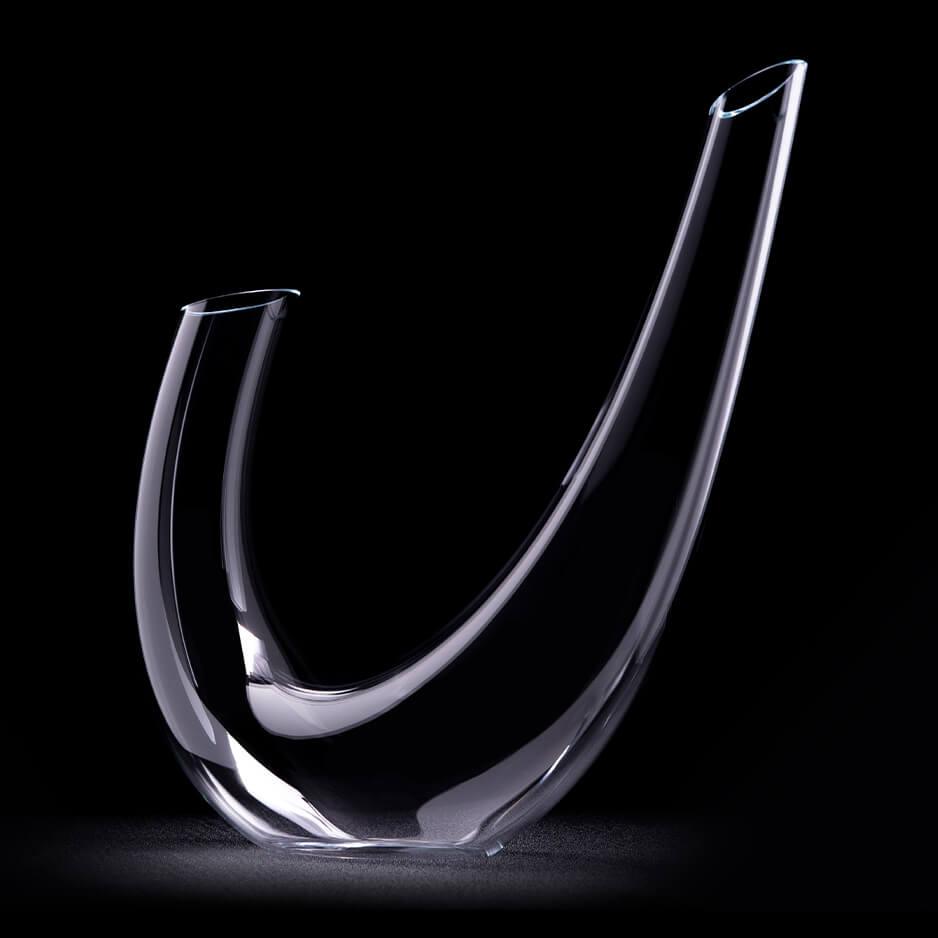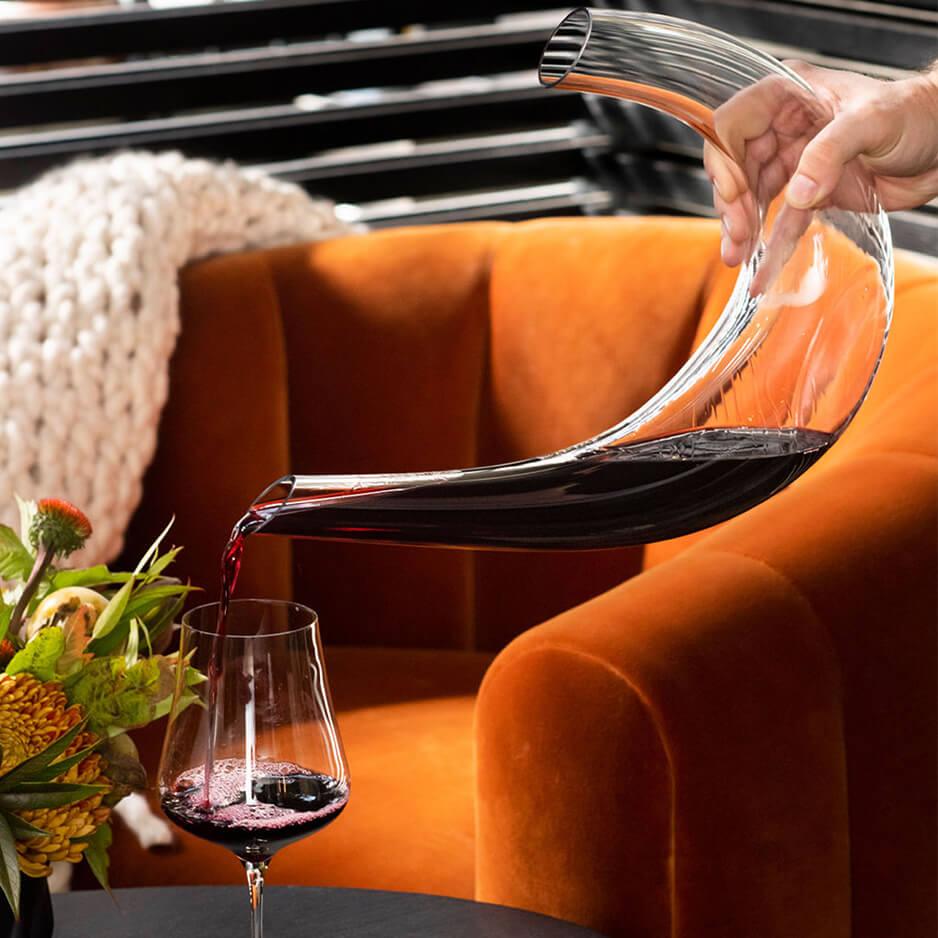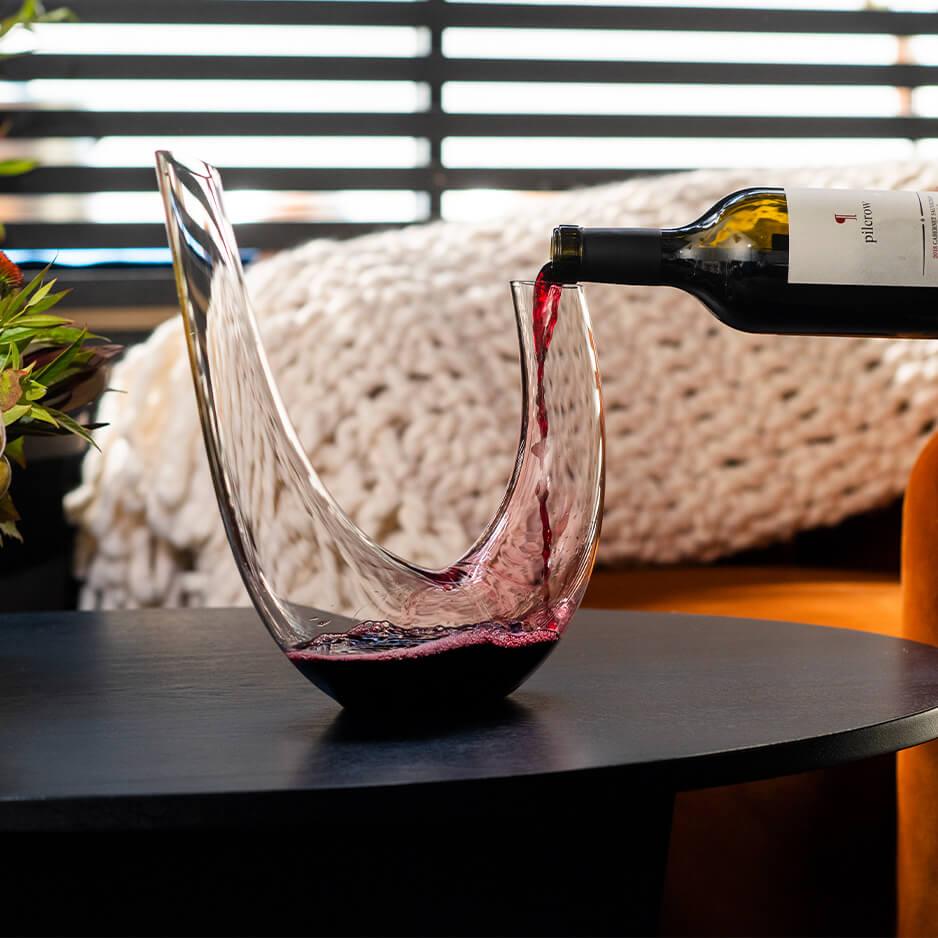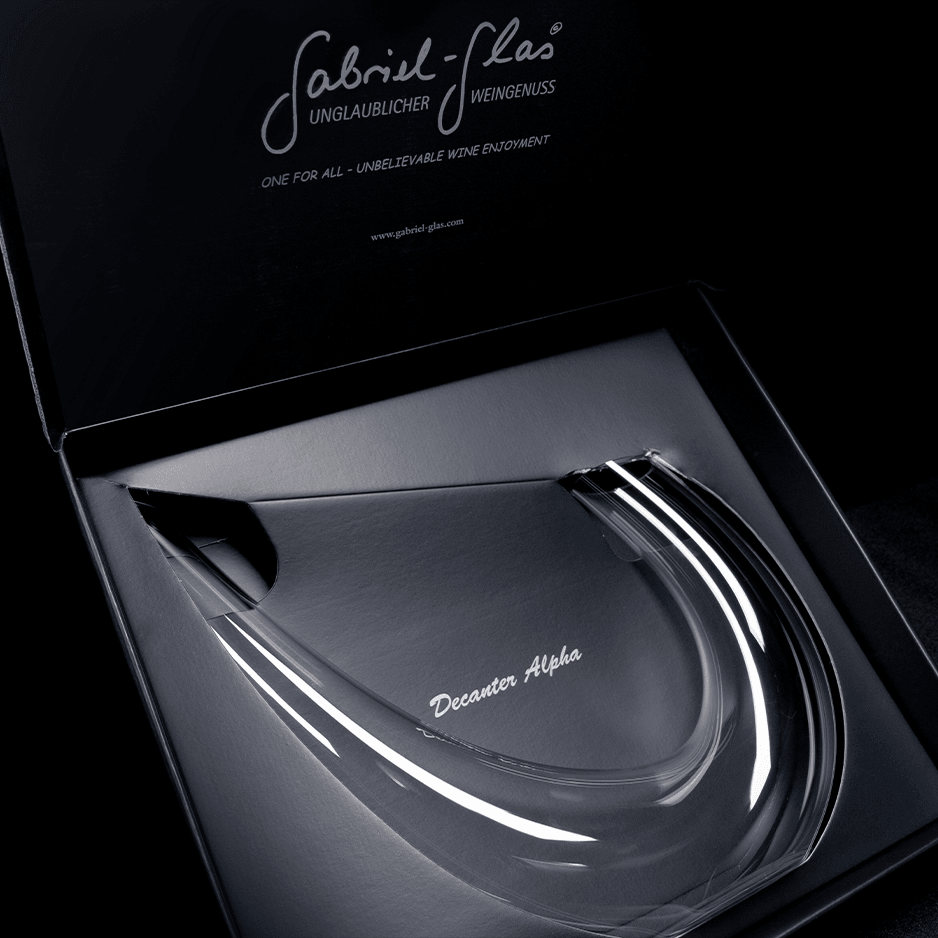 Stunning Lead-Free Crystal
Made from carefully sourced, low-iron sand that is blended with a proprietary mix of metals and purifiers that add clarity and brilliance while also strengthening the material.
Graceful Design
Decanting a wine helps to open the aromas and soften the tannins. Doing these with elegance and beauty is simply a bonus.
Hand-blown and Handcrafted
The same artisans that make the stunning Gold Edition stems make the Alpha Decanter from the same, stunning, lead-free crystal.
Precise Details
The rim of the decanter is diamond cut and diamond polished to be razor sharp and drip-free.
Brilliant & Strong
---
The artistry of Gabriel-Glas lies at its very core: the crystal itself. It starts with the careful sourcing of low-iron sand (to prevent that familiar green cast of a Coke bottle) and the precise and constantly adjusted addition of metals and purifiers like Erbium through the melting process. The result is a stunningly brilliant, fiercely hard crystal.
Hand-blown & Handcrafted
Each Alpha Decanter is hand-blown and handcrafted from lead-free crystal by the same artisans that make the best-in-class Gold Edition stems. It takes years of experience and a hot furnace to be able to form the gentle curve of the decanter while maintaining the thickness of glass.
It's all in the Details
Pouring from a decanter with the aplomb of a Master Sommelier requires a decanter that won't drip red wine all over the tablecloth. And that requires a precisely finished, razor-sharp rim. For the Alpha Decanter it is cut by a diamond polished by a diamond wheel to give it a gorgeous look and a drip-free experience.